As  my mission to do as many free things around the city continues, I bring you a post about an awesome free event that I attended with my mom and older sister Friday morning: the Jason Mraz TODAY Show summer concert at Rockefeller Center.
Now, there aren't many artists that I would either: a) Wake up super early to see b) Wait in long lines for hours for or c) All of  the above, but every once in a while there are those that I make an exception and Jason Mraz is one of them.
Many people may know him as the guitar-wielding, sensitive guy who sings "I'm Yours", but I've been a fan of his since I was about 13-years-old. I remember when his song "The Remedy" from his first album Waiting on my Rocket to Come, came out and it was such a catchy tune and definitely perfect for those rides to the beach in the summer. My taste in music has changed since then (at least that's what I'd like to believe), but my love for his music has remained a constant.
His music has also evolved throughout the years, but what seems to remain the same is the positivity that is radiated throughout each album. Instead of simply focusing on the bad things in life or on the materialistic, he tries to send a message of love and enjoying the simple things in life. One of my favorite songs from his last album, LOVE is a Four Letter Word, is "Living in the Moment", because it reminds you to do just that, which is so important.
Now, with Mraz's fifth (!) studio album, Yes!, released this week, he's making his promotional rounds, and I knew that I wanted to check out his morning concert. We arrived around 6am, feeling sleepy, but excited, and the line already super long. Nevertheless, we were luckily able to score an awesome spot towards the right side of the stage.
Everyone was super nice and NBC gave out a ton of promotional material including t-shirts, hats, paper fans, Styrofoam microphones, and sunglasses. I probably didn't need half of those things, but hey, free is free! The warm-up began around 6:45, if I'm not mistaken, and Jason and his band, the Raining Janes, sang "I'm Yours", "Lucky", and "When You Love Someone", the only song from his latest album.
After that, 3 of the band members came over to our section to take photos and sign autographs. I was able to get my Yes! CD signed by them, so that was a definite bonus. They were extremely sweet and I think still getting used to this "fame" thing; I really hope that they don't change the more well-known that they become. Jason also came over to our section, but he wonderfully focused all of his attention on two girls in wheelchairs who also came to see the show. I wish I could've gotten the opportunity to speak with him as well, but I'm sure that there will be other times.
Finally, the real show began and it was great! I've seen Jason Mraz live once before and he sounds just as great, if not better, live. He puts all of his heart and soul into his performances and really makes an effort to connect with the audience, which I really appreciate.
Before we knew it, the show was all over, but I am grateful to have had the experience. My sisters and I will be seeing him and the Raining Janes perform again in September at Brooklyn College because they'll be doing this awesome 5-borough tour (yep, even Staten Island isn't forgotten about this time), so I really look forward to that. Apparently only two other artists have ever done this before, so this should be great.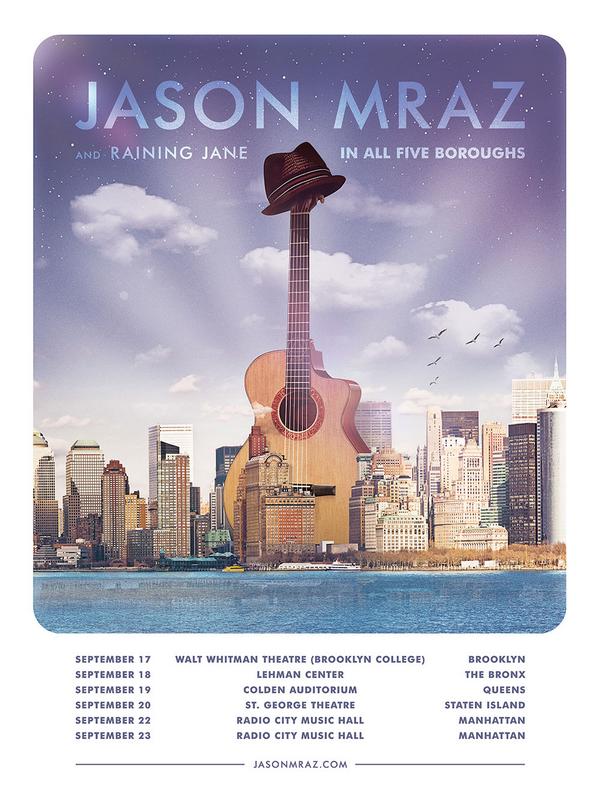 If you are also a Jason Mraz fan, I'd love to hear what your favorite songs are. Yes! is now available for purchase, so I'd suggest checking it out. Thanks for reading!