Yesterday, speakers from several large media companies like Buzzfeed, Eventbrite, Refinery29, Bon Appetit, Food & Wine, Food52 and so many more congregated in Gowanus, Brooklyn – smelly canal and all – to teach enthusiastic attendees the tricks of the trade at the Brooklyn Based Indie Media Camp 2014.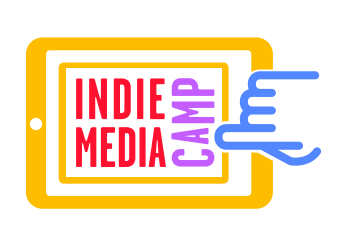 In its second year, the Indie Media Camp aimed to help answer the questions on every blogger's mind like:
How do I get funding for my site?
How do I write great, catchy headlines?
How do I build my social media following?
How do I, as a woman, deal with online harassment?
And being that I frequently visit many of these sites myself, I was looking forward to hearing what they had to teach us. Also, the fact that one of my fav sites, The Skint, offered a discount code for this event definitely helped convince me to check it out.
One of my favorite talks was given by Justin Lin, founder of the BKC Brooklyn Central, a photo school in Dumbo, titled How-To: iPhoneography 101. So many of the photos that I take for either my blog or social media are with my iPhone, so learning about different techniques and what types of lighting or angles worked best to take even better ones was definitely something I was interested in hearing.
I especially liked when social media guru Refinery29 gave advice on how to build your following because with 528,000 Instagram followers and over 1.7 million likes on Facebook, they definitely know what they're doing in that realm. Everything from how closely cropped a photo is to what layout it uses can make all the difference.
Listening to speakers such as Lee Rowland, Staff Attorney with the ACLU's Speech, Privacy and Technology Project, Soraya Chemaly, feminist, gender and culture writer, and Jill Filipovic, former lawyer and feminist/gender writer, speak about their own personal experiences with online abuse and how they've helped battle such instances was inspirational and eye-opening. These women, and so many others, are attacked for simply writing about and standing up for what they believe in, but abuse like this should never be tolerated. What is unfortunate is that not enough is being done to police such violence and if one of the perpetrators does not outwardly make a threat, then nothing can be done. Hopefully in the near future, something can be done to prevent such instances from taking place not only to women, but to everyone berated, belittled, or threatened on the Internet.
My one grievance is that I wish we had more time to actually mix and mingle with these influential speakers, many of whom have once been in our shoes, to either receive some one-on-one advice or even some words of encouragement. But due to a tightly packed schedule, we had no such luck. I even held out hope that during the happy hour we would finally receive the opportunity to connect, but to my disappointment many of them had already left. I definitely feel as though some great opportunities were sadly missed.
Overall, I definitely think I walked away with some great information and some new ideas as to where I can take Born and Bred in Brooklyn. I've had so much fun getting it to where it is today and have met some amazing fellow bloggers along the way, and am super excited to see where it goes from this point forward. Here's to the next 6 months!